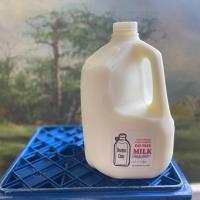 Brunton Dairy
Skim (Gallon)
Regular price
$11.00
$11.00
Forage-fed milk with no added hormones.
Milk tastes better when it comes from one family farm and healthy animals.
Brunton Dairy is located in Beaver County, PA.
Items are grown on small family farms in our region which are no more than 175 miles from Pittsburgh. All animals are raised on pasture and fed a forage diet of local grasses and non-GMO grains. They are also free of added hormones and antibiotics.
---
More from this collection