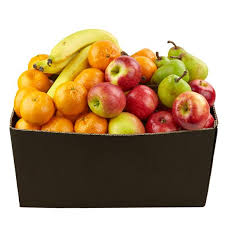 Local Produce Farms
Office Fruit Box - $100
Regular price
$100.00
$0.00
Are you looking for a great healthy snack for your office co-workers? Look no further than our Office Fruit Box.
This box contains a total of 100 pieces of fruit.
Office fruit delivery is available for companies in Allegheny County.  If you work outside this area, please contact us at info@isidorefoods.com or (412) 400-4721 before placing your order.
Deliveries take place each Monday and Tuesday between 10 a.m. to 5 p.m. Delivery frequency can be weekly or every other week (biweekly). Fruit box prices include shipping and handling.
We specialize in delivering regional, seasonal fruits to our business customers. We also provide staple fruits like bananas and citrus fruits (oranges, grapefruits, etc.). Regional fruits include apples, pears, peaches, plums and nectarines.
Each week we pack fruit boxes that contain a combination of regional and staple fruits. Customers also have the option of customizing their own fruit box.
---
More from this collection