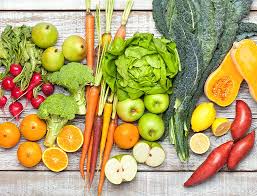 Local Produce Farms
Pick 14 Large Vegetable and Fruit Box (Subscription)
Regular price
$40.00
$40.00
This is a Subscription Box and is delivered year-around.
Winter delivery is November through May and Summer delivery is June through October.
Weekly or Every other week?
We will send you an email confirming your order and provide you with delivery directions at that time.  Reply to the email and let us know how often you would like delivery.

You may cancel your subscription at any time.
Each Thursday morning you will receive an ordering email from us.  Delivery will take place the following Wednesday or Thursday depending on where you live.   The ordering email will include your produce, coffee and dairy options.
If you want just fruits and vegetables, choose any 14 produce items from the ordering email and email your order back to us.  Organic produce items will be identified in the ordering email.
You can also include dairy and coffee with your order.  If you include these items, your total should come to an estimated $40.  Produce items are $3 each while dairy and coffee prices are included in the ordering email mentioned above.  
Items are grown on small family farms in our region which are no more than 175 miles from Pittsburgh.
Fruit list:
Winter
Apples (at least 6 varieties)

Pears (at least 2 varieties)

Florida Oranges
Florida Grapefruit
Summer
Apples (at least 6 varieties

Pears
Peaches
Nectarines
Blueberries
Sweet Cherries
Plums
Strawberries
Apricots
Petite Canteloupes
Petite Watermelons
Vegetable list:
Winter
Kale
Winter Squash - Acorn, Butternut, Spaghetti
Baby Red Potatoes
Broccoli
Cauliflower
Carrots
Baby Spinach
Baby Salad Greens
Mushrooms - Crimini, Portobello, Shiitake
Green Onions
Shallots
Onions - Red and Yellow
Beets
Green Onions
Yams
Yukon Gold Potatoes
Radishes
Garlic
Bibb Lettuce
Summer
Shallots
Green Onions
Onions - Red and Yellow
Baby Red Potatoes
Beets
Cucumbers
Yams
Baby Yukon Gold Potatoes
Carrots
Zucchini
Baby Salad Greens
Baby Spinach
Red Leaf Lettuce
Radishes
Romaine Lettuce
Yellow Squash
Green Bell Peppers
Garlic
Slicing Tomatoes
Cherry Tomatoes
Bibb Lettuce
Sweet Corn
---
More from this collection